Chad Wilson, BSc, ART, DC – Chiropractor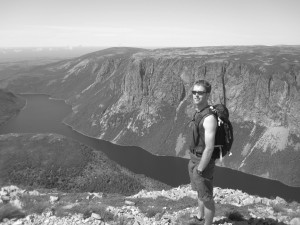 Doctor of Chiropractic
Masters ART Provider (Active Release Techniques)
Chad graduated from the University of Waterloo with an honours bachelor of science degree in Kinesiology (the study of human movement).  He later obtained a second bachelor of science degree in Human Biology and a Doctorate of Chiropractic from Logan College of Chiropractic in St. Louis Missouri.  Since that time, Chad has pursued continuing education and has studied to become fully certified in ART – Active Release Techniques, and SFMA – an assessment approach designed to find the underlying cause of a client's musculoskeletal injury.
Chad has worked in various clinical settings, including four Ottawa based integrative medical centres.  He has worked on the medical treatment team at Ironman and Ottawa based triathlon races, and he lectures on Chiropractic at the University of Ottawa's medical school.  Chad is an avid downhill skier and runner,  and he also enjoys snowshoeing, cross-country skiing, obstacle racing, but mostly spending time with his wife Lindsay and his three young kids Hope, Jax and Ash.
Chad's goal as the founder of OC3 is to provide a multidisciplinary approach to injury care, so that patients benefit from the knowledge base of various disciplines of health care.  Through this model, we believe that patients are better served, and injuries are subjected to quicker healing times.
To book an appointment at our integrative injury centre just east of Elgin street, please contact us at 613-230-7891.
Contact Us
613-230-7891
102 Lewis Street
Ottawa, ON
K2P 0S7
Phone: 613-230-7891
Fax: 613-569-1831
Send us an email
Hours
Mondays: 7:30am - 6:00pm
Tuesdays: 7:30am - 6:00pm
Wednesdays: 7:30am - 6:00pm
Thursdays: 7:30am - 6:00pm
Fridays: 7:30am - 3:00pm
Some Saturdays*: 11:00am - 3:00pm
*OC3 is open some Saturdays for Registered Massage Therapy and Pilates classes. Please inquire by calling us.
Hours are subject to change.
N.B.: Construction Near OC3
In March 2016, Gilmour and Cartier St will be undergoing construction for 7 months.
Did you know OC3 has a parking lot? It is located at the back of the house along Cartier St. Please visit this link to see where you can park & ensure to leave room for a car to park next to you when possible. here .
April 29, 2016:
Within the next two weeks heavy construction will commence along Gilmour St.
April 21, 2016:
Construction has progressed and moved beyond Queen Elizabeth Driveway and The Driveway. Construction is now taking place along Cartier street. There will be NO PARKING along Cartier St for the duration of the summer. If you need access to the parking lot, you are able to reach it from Cartier St. If there is no available parking in the driveway, please look for alternative 1hr parking nearby.
If you require 2 hour parking, please go to McLaren St.
We will be posting updates every 2 weeks as the construction progresses to allow for best routes, access to parking, and potential detours.